Students Utilizing Innovation Lab Technology to Benefit Students and Staff

Chagrin Falls High School students Thomas Wirbel, with the help of Winston Breeden IV, designed a new daily bell schedule for students at the high school and middle school using the technology available in the new Innovation Lab. The large format prints will be displayed in both buildings and the students are now working on a small schedule to attach to the students' Chromebooks.
---
Over the next few months, student interns from the Innovation Center will be taking a closer look into the various machines and equipment that students are now using in the Creation Space of the new Innovation Center. This month, Holden Woofter,  an eighth grade student at Chagrin Falls Middle School, answers questions on the laser engraver.
What do
es a laser engraver actually do?
The laser engraver is a machine that can shoot a high power laser at a material and engrave it. You can also set it to cut all the way through the material. The laser engraver can cut/engrave just about anything – brass, plexiglass, wood, and my favorite, paper.
How are some ways that students can use this for learning/problem solving?
Students can use the laser engraver to do a multitude of things. One of the most obvious ways is to make some very cool and unique are projects. The laser engraver can also be used to engrave parts for the robots that are a custom fit making the robotics class a little more in depth than was previously possible. The great part is that students can use it fo
r almost any class because it is so versatile.
Any other ways this has been used or any other thoughts?
One cool thing that the laser engraver is being used for it to make the internship cards for the Innovation Lab. The innovation Lab as a whole is great because if you can think it, if you can dream it, or even if you can only draw it, then you can make it.
---
Innovation Center Open House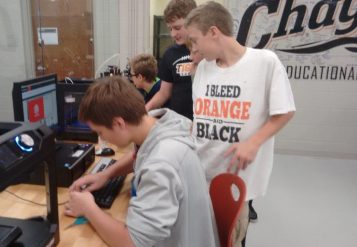 On October 7, 2016 the community was invited to an Open House at the new Chagrin Falls Schools' Innovation Center. Students were eager to show parents and residents the new Research Center – a connected space for research, idea creation and study, as well as the Collaboration Classroom – a place for group discussion and interaction, with the use of technology to connect beyond the borders of Chagrin Falls. The Fab Lab was a favorite room for those taking a tour as they saw first-hand a makerspace to bring the students' ideas to life with 3D printers, embroidery machines, laser cutters, tools and more.
"Chagrin Falls is fortunate to have a bright, engaged student body who will benefit from this unique space, and a faculty who is eager to employ new methods of teaching," said Meg Nachtwey, president of the Chagrin Falls Educational Foundation and chairperson of the Innovation Center committee. "This space now supports teachers and students in all disciplines to research, collaborate and create in groups — deepening the learning experience."